Anna Bondareva, author of 'Making Of: Trusted Chronicles',
tells us about the great time she spent in Paris and, meeting inspiring artists, who became life-long friends who helped her remain tuned and creative. 
City of Lights
Life itself is just a brief moment of eternity, which must be taken immediately and from which one must take an advantage to party, whenever the occasion presents itself. Until recently, Paris used to be a great big restaurant where one could partake in a good time. But all the terror the French capital has gone through recently, including a deadly massive attack in the concert hall, Bataclan, on the 13thof November 2015, followed by the big fire that destroyed the flash of Notre Dame cathedral on the 15th of April 2019 have changed the whole ambiance of the "city of lights" forever.
I was lucky enough to live and experience other happier moments, and to meet great characters who have since sadly left this world.  Red cashmere scarf around the neck in black tie ban, always with a hat, always very chic, Yves Corbassière (1925 – 2020), was born a viscount. He never ceased to amaze the bohemian Parisian crowd whenever he appeared in public. His close friends and contemporaries included Charles Aznavour, Robert Hossein, Tino Rossi, Yves Montand, Alain Delon, and Rudolph Nureyev, to name just a few. As well as all those who could not stay in at home, instead they'd preferred the clinking of glasses and the hectic conversations, the beautiful women and the agitation of younger's, around a big round table covered with starched white tablecloth. To create a menu card for the piano bar of the legendary Hôtel Plaza Athénée, Corbassière was invited at the request of the great actress Marlene Dietrich herself. The Hollywood star had lived many years on avenue Montaigne,  in the building opposite of Plaza Hôtel, and often went there to enjoy a coffee.
Yves invited me to attend the recompose of the Legion of Honor for his close friend, Eric Fréchon, the grand chef of the Bristol Hotel, Faubourg Saint-Honoré. The event took place at the Elysée Palace in presence of then French president Nicolas Sarkozy.  For security reasons, the guest list had to be submitted three days prior to the event for vetting and verification. I had originally traveled from London to Paris for some film auditions and meetings, but then received and accepted the invitation from the artist with joy and pleasure and extended my stay in Paris for a few more days.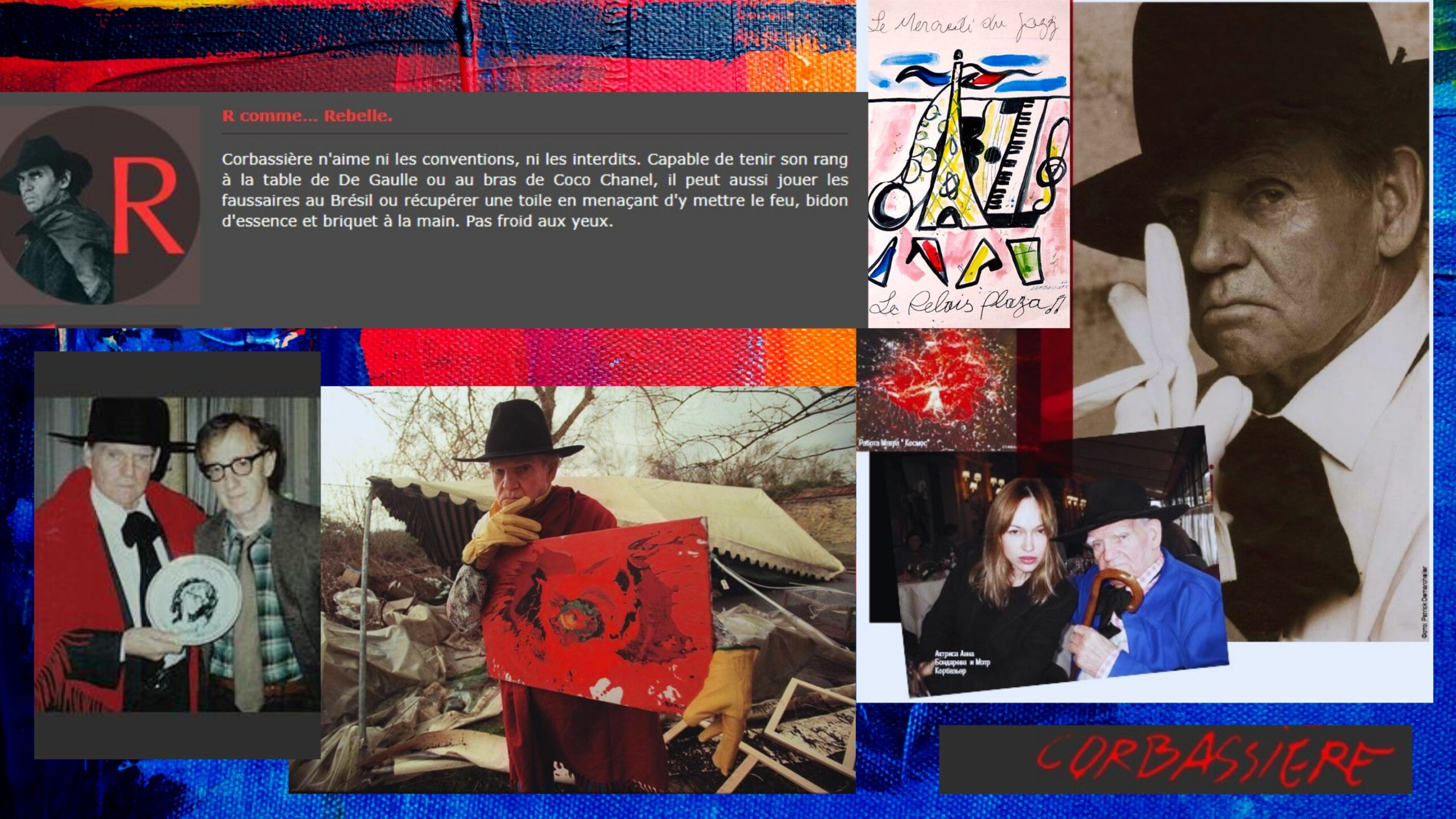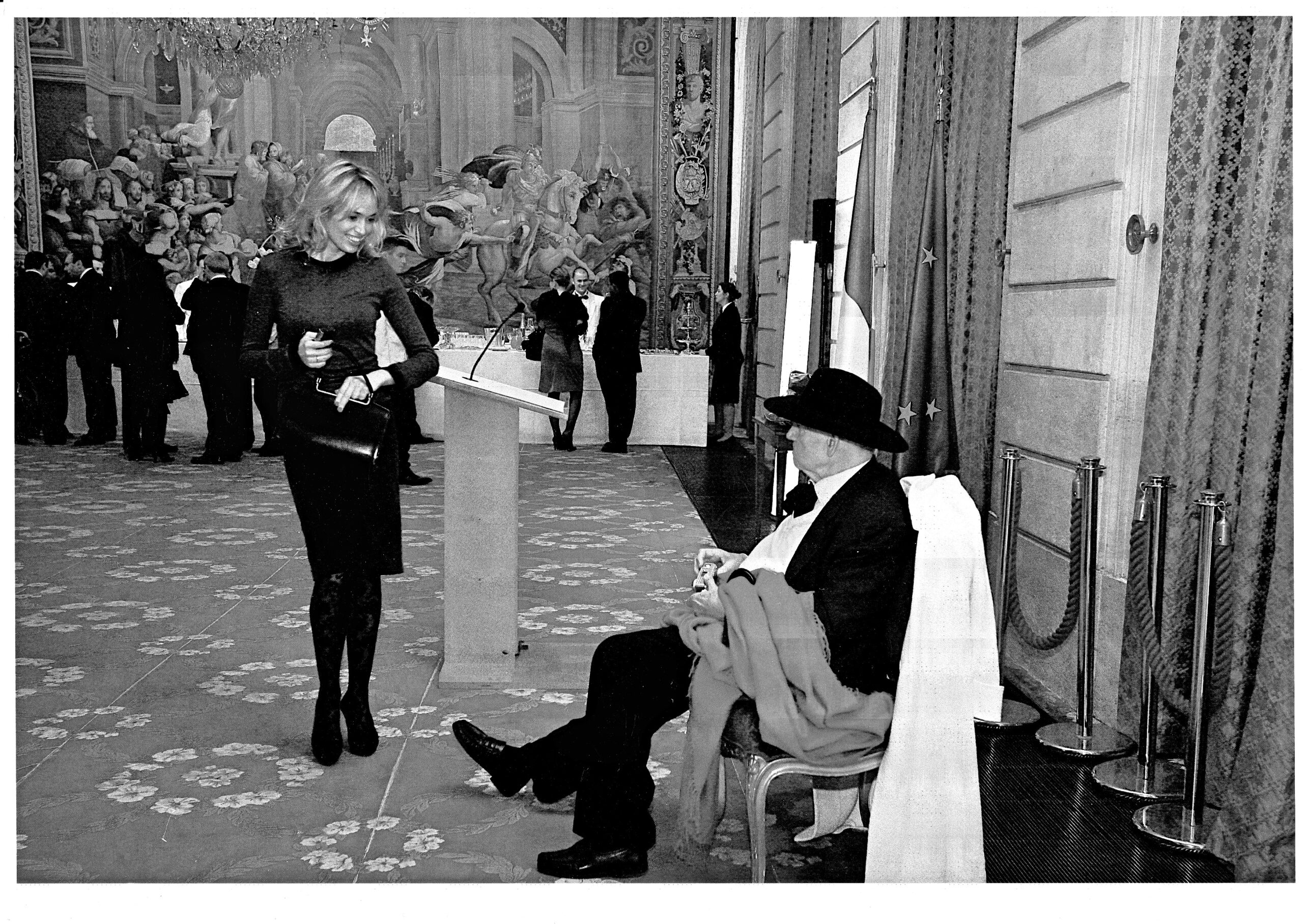 Upon arrival to the presidential residence, Yves Corbassière settled down in a comfortable armchair in the ceremonial hall carefully examining his varnished oak cane with a silver handle, as he then began sharing his thoughts. "Yes, often I have no one to talk to about that time, because no one understands the intricacies of old-fashioned humor. The charters, the customs, the particular mode and art of communication and even the aesthetic of models have all changed." At his age of eighty-five, the artist exhibited much autonomy. He still drove a car, enjoyed tasting rare French wines, and gave etiquette lessons to those newly hired service staff members of luxury Parisian establishments. But above all, the artist continued right until the end to do what was most important in his life – he continued to paint. The French he spoke, we could not hear elsewhere, but only at the cinema! He used phoned me often, and we had long conversations; it was a great fun speaking to him. "I never get bored because I can look at my memories as if watching an endless movie; I can pause, freeze a favorite moments, and even hear the voices of beloved long-gone friends. I should keep making art as long as my hand holds a brush firmly and my eyes require no extra aid. In the universe there is an inexhaustible reserve of themes for an artist, but the charm of a woman is a separate chapter. I can paint the woman endlessly. I draw her everywhere: with a marker on plates, with a pencil on the paper table napkins, then in my atelier on the canvases. The woman, for me, is like an elusive star. I look everywhere for her radiation."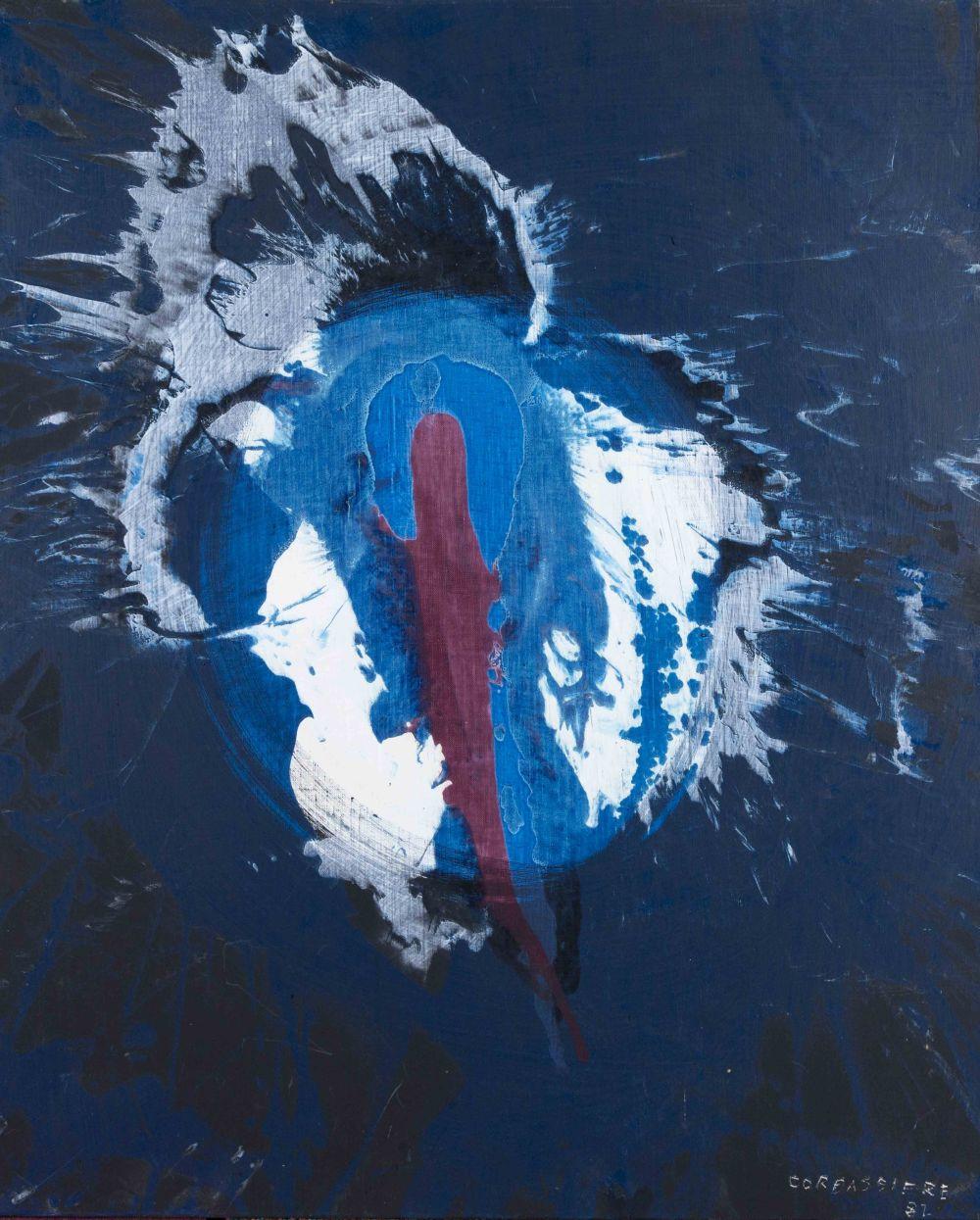 Over the last few years the artist has lived and worked in a comfortable pavilion located in a small, picturesque village, just 40 kilometers away to the west of the Bois de Boulogne. One day I found the time to visit the master in his workshop. As usual, we started to chat. The artist showed me photographs and sketches, telling me he had begun to find it more and more difficult to paint. "I have nothing to regret. The only thing I would like to do is to have had traveled more." He said with the slightest sadness, which had quickly disappeared as he picked up his speech and changed the subject. "For me, the Slavic countries, as well as the Slavic female beauty, remain under the veil of mystery. There is something inaccessible and a little crazy about Russian literature and the Eastern European folklore in particular. The Slavic soul somehow remains inaccessible to us, we, the Western people of reason and logics, simply cannot grasp its full potential." Subsequently, the artist went to a nursing home, a hospice from where no one comes back. Once I visited him there, he brought out from underneath of his bed a fantastic bottle of red wine, served exclusively for guests. I asked him what the greatest pleasure and value for a person in his life would be and here is what the artist said to me. "In my opinion, music is the most perfect of the arts. I have played the piano since childhood. Once I could surprise a happy audience with some jazz improvisation. I'll tell you a secret, I wanted to become a professional pianist but fate made its choice, and I became quite a good painter, a great schemer, and a great lover of music! And what makes a successful film? A talented director? A good cast? An expensive décor, or an unforgettable soundtrack?  Surely, you can make a good movie! That's a great idea!"
I told Yves about my screenplay because it was him I imagined when I was writing some scenes. Likewise, I was thinking of a character, someone like Pierre Richard, who could have perfectly personified the painter on screen. During one of the dinners organized by Corbassière in a gourmet restaurant with a very musical name, Arpège, I met Richard. Previous to this, another friend of mine, the great painter, Sergei Chepik, attempted to introduce me to the actor Richard because I wanted to talk to him about my script. Chepik (1953 – 2011), who was one of the greatest painters to emerge from the former Soviet Union, painted a magnificent portrait of the French actor who had a very warm attitude towards Russia. Richard's popularity there grew bigger than it was at home. Indeed, it is there that he felt the love of the public, like nowhere and nothing else. Pierre Richard was kind enough to give me his coordinates and we met right after at the theater during his one-man show where I had also been invited by my agent, Jolanta Bernard.  It was a very nostalgic and touching performance, where Richard read letters he had received from different people as well as legendary colleagues and friends throughout his career. The actor on stage was in his element, retelling funny stories and capturing memorable moments, all while improvising a lot. He truly had the ability to communicate with the public so openly and freely. After the show, I appreciated Pierre Richard even more. Recently, we went to a premiere of one of Pierre's films, Un Profile pour deux. The screening was being held at one of the cinemas at Avenue des Champs-Élysées. Today, Richard, "The Tall Blonde man with one Black Shoe", is 87 years of age and still rolling.